7 Sparkling Non-Alcoholic Drinks To Help You Smash Dry January
You may have noticed that your local corner store's drink fridge is getting stocked with more interesting stuff lately, and that your favourite breweries are offering locally made, non-alcoholic canned drinks, instead of just Coke. These days, it's easy to find canned cocktails without the alcohol or calories (like those by Vancouver's Opus) and functional waters (like Toronto-made vaporwave-branded adaptogenic drink Daydream), as well as no-sugar-added local fruit sodas, flavourful seltzer waters, fermented juices, and refreshing sparkling teas.
This profusion of options is linked to the decline of "Big Soda" and rising tides of health consciousness, says Andrea Hernández, whose ultra-cool Snaxshot newsletter chronicles food and beverage trends. It started with lower-cal alcoholic drinks like Nudes and White Claws, but "what's even better [for you] than a hard seltzer?" asks Hernández. "Guess what: a non-alcoholic seltzer."
That more folks are reassessing their relationship with alcohol has also played a part; these days, there are plenty of alternatives for the moments you don't feel like drinking alcohol — or the times you've committed to stop drinking altogether like now when so many of us are trying to stick with our New Year's resolutions to refrain from alcohol and participate in "Dry January." Frankly, having some tasty, non-alc options at your party is very cool and considerate of you — and stocking your fridge with tempting substitutes might help you actually make it through the month alcohol-free. And why not? There are so many out there to try.
Opus — Aperitivo Spritz
Opus makes both alcohol-full and alcohol-free versions of their creations so you never have to miss out on the fun. Their alcohol-free Aperitivo Spritz features notes of fresh seville oranges, grapefruit, rhubarb, and handcrafted aromatic bitters — a fruity, refreshing, and delicious option that helps you stick to your New Year's promise.
Sapsucker — The Original One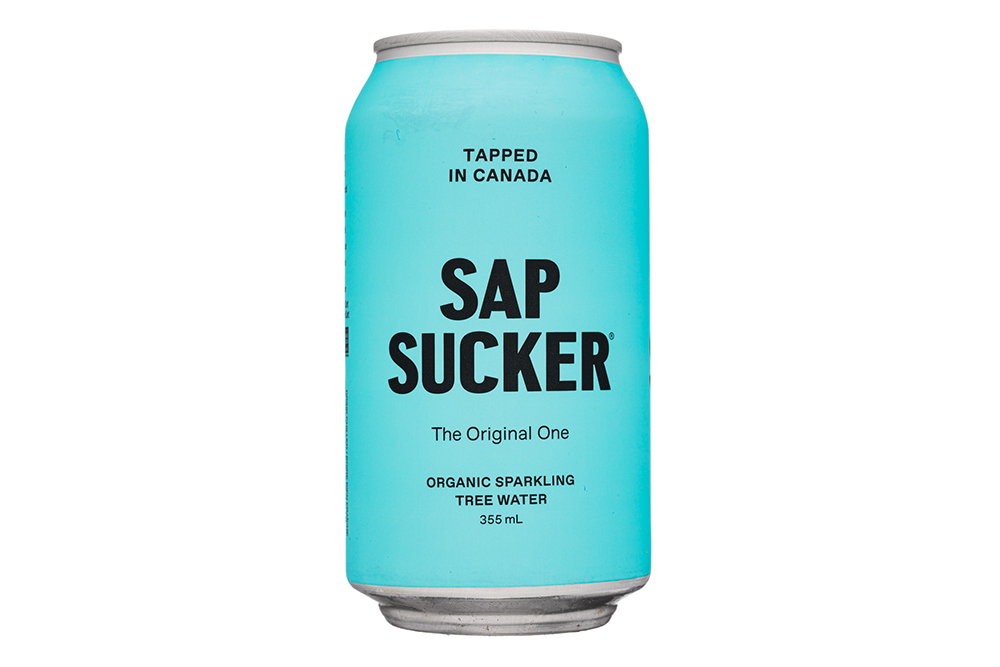 Sapsucker is literally sparkling tree water and is tapped right here in Canada from a sustainable source. It's organic and plant-based and its original version has a slight sweetness to it, and a bubble that is not too overpowering. It's a refreshing and subtle sipper that'll make you forget about the booze.
Annex Soda — Saskatoon Lemonade
What's better than lemonade? We think it's obvious: Sparkling Saskatoon Lemonade, of course! Annex Soda specializes in small batch, craft produced beverages without the artificial nonsense — oh, and without the alcohol — so you can enjoy their drinks guilt-free all January long.
Farming Karma — Pear Soda
An alternative to sugary sodas — and boozy beverages — Farming Karma's fruit sodas will quench your thirst and satisfy your cravings. Their Pear Soda is made without gluten, added sugars, preservatives, or concentrates — just sparkling pear goodness. Made from fresh-picked local pears from the Okanagan Valley region in British Columbia, we're glad to introduce you to your newest obsession.
Shang Beverage Co — Mango Passionfruit Tisane
Thirst, meet your match. This refreshing sparkling herbal tea is here to quench. Shang Beverage Co's Mango Passionfruit Tisane is loaded with flavours like mango, currants, orange peel, and more to create a balanced blend of sweetness and tartness — without the sugar, calories, or even the caffeine. No jitters, no problem.
LOOP — Sparkling Strawberry Probiotic Soda
What we love about LOOP is their mission to reduce food waste in Canada by rescuing produce that would typically be rejected due to its appearance. LOOP turns the "ugly" produce into awesome juices instead. Now they're also whipping up probiotic sodas that incorporate their cold-pressed juice. LOOP's Sparkling Strawberry Soda is naturally fermented, has billions of gut-friendly bacteria, and is a solution to food waste. And it doesn't taste too shabby either. It's a win all around.
Daydream — Peach Ginger
If the look of the Daydream cans weren't enough to intrigue you (talk about groovy!), then get a load of this: Daydream is Canada's first sparkling water infused with hemp extracts and adaptogens. In other words, say hello to reduced stress, increased focus, and all-around calm. Their Peach Ginger flavour, made with all natural ingredients, is as refreshing and delicious as it looks and sounds.