11 Futuristic Kitchen Appliances That Are Actually Useful
Lately, in the spirit of "throwing in everything but the kitchen sink", appliance makers have been eager to convince us that no oven is complete without a screen, a camera, and a personal voice assistant. Frankly, most of us still don't trust Alexa to poach our morning eggs, and there are far better ways in which an appliance can be smart these days. Enter another wave of kitchen wares more concerned with useful gadgetry than with these unfortunate convenience-driven gimmicks.
Taking inspiration from the auto industry, these appliances are addressing truly practical problems — adopting doors that don't require us to set down whatever we're carrying to open them, for instance. In the process, they're making a case for what the home of the future should look like: not, perhaps, a science-fiction movie in which ovens interact more with our phones than our food, but rather, a familiar environment in which things are just a little bit easier to use. Here are all of the latest innovations — kitchen sink not included — to keep in mind ahead of your next kitchen reno.
Monogram 36″ Induction Cooktop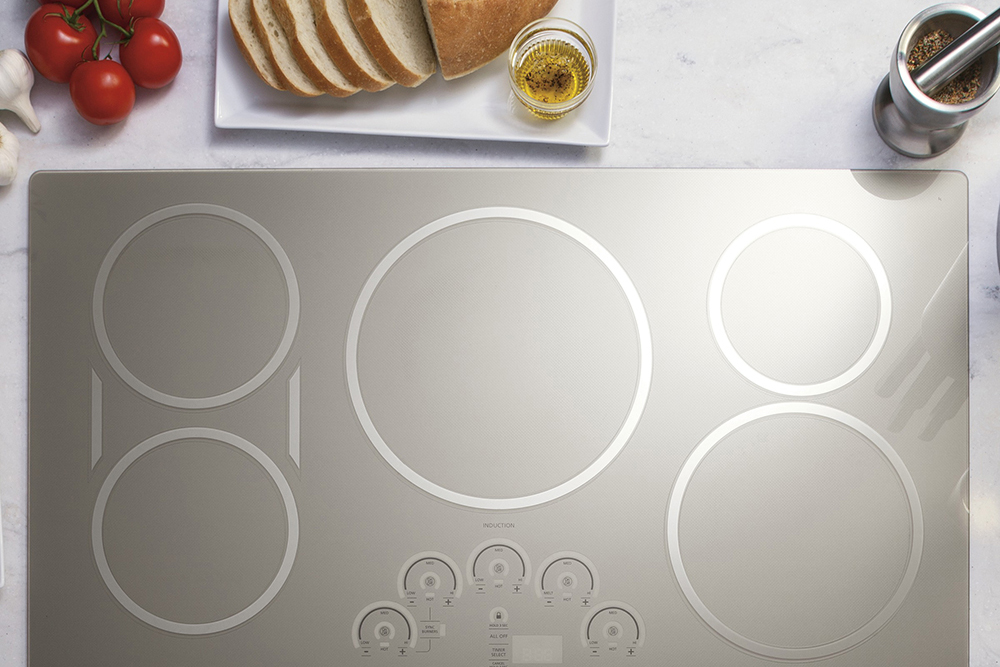 Cool Controls: Glide touch control panels let you set individual timers for each element — or merge two together to accommodate large griddles.
The Real Innovation: A melt setting ensures easy prep of chocolate and cheese sauces. ($6,130)
Gaggenau 400 Combi-Steam
Cool Controls: Carrying a dish? Tap against the touch control module to easily open the door.
The Real Innovation: The hybrid combo of convection and steam cooking delivers power while better sealing in moisture and flavour. ($8,580)
Terra Kaffe TK-01
Cool Controls: A touchpad makes customizing drinks as easy as using the Starbucks app — with even better results.
The Real Innovation: The machine fully integrates a bean grinder (no pods!) and schedules its own off-hours cleaning. ($825 USD)
Cuisinart 3-in-1 Wine Opener
Cool Controls: Its sleek and minimalistic design make it a welcomed addition to your bar cart.
The Real Innovation: We've all had trouble opening wine bottles before. Impress your guests and remove your wine corks at the touch of a button. No more embarrassment, no more broken corks — just blissful, stylish, convenience. ($100)
Sharp Microwave Drawer
Cool Controls: The hidden control panel makes for a super sleek and integrated look.
The Real Innovation: The automatic drawer operating system is peek convenience — the drawer opens with a touch of a button and smoothly closes shut with a gentle nudge, allowing you to close it even with your hands full. Plus various settings (including melt, soften, and warm) make for more precise results. (~$2,000)
Fellow Black Stagg Electric Kettle
Cool Controls: It's sleek, good-looking, and compact — and while its long, precise, gooseneck spout is stylish its also necessary for optimum pour-over flow rate.
The Real Innovation: With a turn of a knob, you can select your exact desired temperature to-the-degree — and then hold it with 60-minute hold mode so you can boil (super quickly, might we add), hop in the shower or on a Zoom meeting, and your water will still be blazing or however you like it. ($215)
Revolution 2-Slice Toaster
Cool Controls: Its touchscreen display, equipped with 63 precise toast settings, is not only high-tech but highly convenient.
The Real Innovation: Its integrated InstaGLO heating system reaches its "full glow" potential in two seconds so browning is super quick and efficient — perfect for the guy on the go. ($500)
Ninja 2-Basket Air Fryer
Cool Controls: Did you really think you were going to get through this list without seeing an air fryer? The air fryer is quite an innovative invention and has changed the cooking game for most. This one has six customizable programs to meet all your cooking needs.
The Real Innovation: The two independent cooking baskets is the real game changer here, letting you cook two completely different foods at once (even things that require different cooking temperatures) — to make preparing dinner that much easier. ($300)
Miele MasterCool II Push2open
Cool Controls: Another handle-free door that opens with a gentle nudge.
The Real Innovation: The MasterFresh zone, which controls humidity to keep fruit and veg fresh 5x longer than typical fridge compartments. ($9,500)
Smeg Retro-Style Citrus Juicer
Cool Controls: OK, we know it might seem a little ironic — to include an appliance with the word "retro" in its name to a list about futuristic gadgets but hear us out. This juicer is sort of simultaneously retro-inspired yet cutting-edge. It looks cool and will look great sitting on your countertop.
The Real Innovation: A powerful motor, on-off sensor, juice collector, non-drip spout, and dust-proof cover are just some of its smart features. It may be simple but it effectively juices citrus to perfection while preventing spillage and minimizing clean-up. Doesn't get much more efficient (or delicious) than that. ($290)
Cesar Maxima 2.2
With their all-black aesthetic, many kitchen appliances could now pass for sophisticated stereo equipment — meaning bachelors no longer have any excuse for a counter full of empty takeout containers. Carry the noir theme over to your cabinets with Cesar's suave Maxima 2.2 system. (Price upon request)