Have the Mountain All to Yourself at These Canadian Ski Destinations
Of the activities we embraced en masse during COVID lockdowns — breadmaking, knitting, staring blankly into the middle distance — skiing and snowboarding have what it takes to keep Canadians coming back. Thrills aplenty? Check. Instagram-worthy scenery? Pretty much anywhere we hit the slopes. Cockle-warming cuisine and cocktails? In spades!
According to the Canadian Ski Council, participation in snow sports increased by 360,000 people over the 2021-22 season, with the 8.3 percent of Canucks who took part producing the highest participation rate in 20 years.
This impressive growth owes much to strong showings by Canada's busiest and most accessible ski areas, which drew neophytes in droves. If you prefer your mountainsides to be drove-free, however, look no further than the nine under-the-radar options explored here.
Red Mountain Resort, B.C.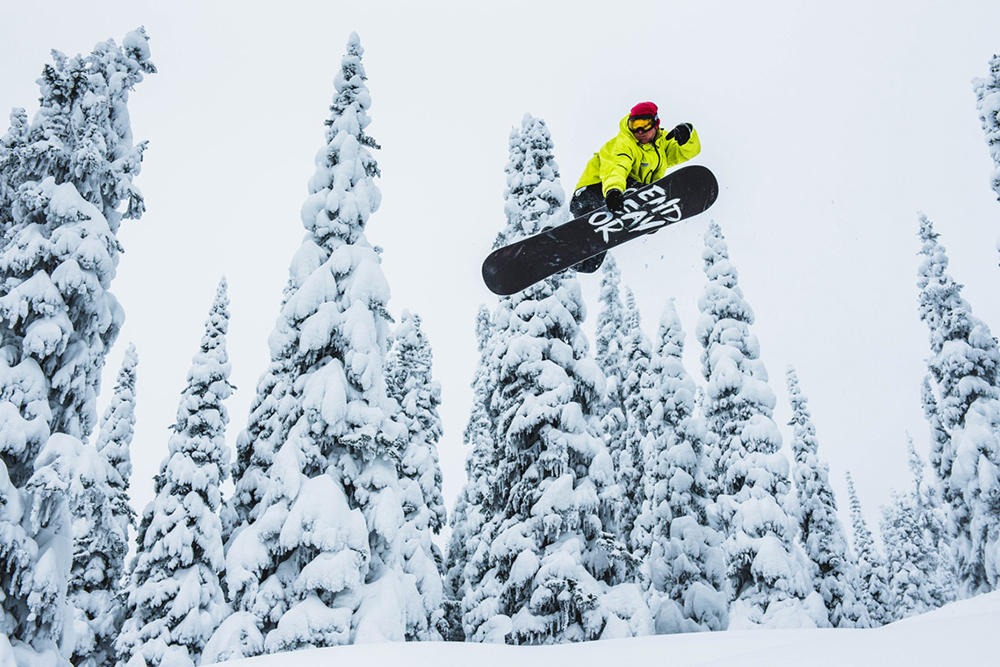 The southernmost stop on B.C.'s world-famous Powder Highway has come a long way since unveiling Western Canada's first chairlift in 1947. Home to 3,850 acres of snowy goodness spanning five Monashee peaks, Red is now among North America's 10 largest ski areas. It opened one of the most buzz-worthy slopeside hotels in North America in 2018 (more on that below), and two years later joined the multi-resort Ikon Pass program. That said, Red remains a literal and figurative outlier, with ramshackle ski club huts and defunct mine shafts dotting its slopes, and the nearest reliable Canadian airport, in Kelowna, being at least three hours away by car.
Visitors who want to take their skiing to the next level can stroll over to Big Red Cats for a full serving of guided off-piste adventure spanning eight nearby mountains. Encompassing some of the best glade and tree skiing on the planet, much of BRC's 20,000-acre tenure is suitable for intermediate-level skiers and snowboarders.
Where to stay: Red's world-class skiing and snowboarding has always been worth the extra travel time, with the opening of the Josie Hotel only adding to the rewards. Combine 106 upscale guest rooms and suites with the stylish Velvet Restaurant and Lounge and in-house ski valet service, and the Josie's $40-million price tag sure seems like money well spent.
Where to après: Named after an ill-fated flying machine that crashed nearby, the Flying Steamshovel's double-digit craft beer taps, B.C.-focused wine list, hand-crafted cocktails and menu of locally-sourced gastropub fare are welcome additions to Rossland, the lively mountain town five minutes from Red.
Le Massif de Charlevoix, Quebec
An hour's drive northeast of Quebec City, the Canadian ski area with the greatest vertical drop east of the Rockies is as unusual as it is isolated.
For one thing, there's parking at both the base and summit of Le Massif. For another, keen-eyed skiers can spot minke, beluga and humpback whales frolicking in the St. Lawrence River below. Le Massif is also home to Mount Liguori, a pristine peak that lacks lifts and is never groomed. Accessible on touring skis, split-snowboards or snowshoes, the untracked powder covering Liguori's steep, forested terrain rewards those intrepid visitors who reach one of three summits under their own power. Think off-piste adventures only happen out west in Canada? Think again.
Last but not least, Canada's first all-inclusive ski lodgings opened on its lower slopes in late 2021. On that note…
Where to stay: Home to 302 rooms and suites, including 25 extra-opulent Exclusive Collection digs, the $130-million Club Med Québec Charlevoix consolidates all the elements of a ski vacation in one tidy package. Lift tickets and lessons? Check. Wining and dining? Yes, at the all-day buffet and at four window-lined restaurants and bars. Resting and relaxing? The window-lined indoor pool and outdoor hot tubs help tick both those boxes.
Where to après: Located on the only road leading to and from Club Med, the restaurant in the adorable Auberge le Four a Pain serves a three-course table d'hote starring filet mignon, grilled salmon or seafood fettuccine.
Pass privileges: Mountain Collective pass holders receive two free days at Le Massif with no blackout dates.
Nakiska, Alberta
Built for the 1988 Winter Olympics, this low-key resort in Kananaskis Country wins gold medals for scenery, fun and comfort. Surrounded by the snow-capped peaks of the Rockies, Nakiska offers a variety of terrain including superbly groomed Olympic-length cruisers, a beginner-friendly area, and the Monster Glades, the largest tree-skiing area in the Alberta Rockies. An hour from Calgary by car, the mountain is also close to the world-class dining, accommodation, and spas of Kananaskis Village.
Where to stay: The Pomeroy Kananaskis Mountain Lodge combines the luxuries of an Autograph Collection property with roomy suites ranging up to 795 square feet and an indoor water park. Speaking of water…
Where to après: Steps from the Pomeroy, the 4,600-square-metre Kananaskis Nordic Spa offers various hot and cold plunge pools, saunas and steam rooms, a saltwater float pool, heated hammocks, and more. The in-house Two Trees Bistro serves locally-sourced sharing platters, small plates, herbal teas, and espresso drinks, as well as wines and craft beers such as a refreshing Rutting Elk Red Ale brewed in nearby Canmore.
Pass privileges: Epic Pass holders have access to seven days at Nakiska with no blackout dates.
Panorama Mountain Resort, B.C.
Panorama is an oasis of sorts. Its 1,152 hectares of skiable terrain and 1,225-metre vertical put it in the same league as North America's largest ski and snowboard resorts, yet its uncrowded slopes are worlds away from the hustle and bustle of Banff to the north, or the Okanagan region to the west. There's more to the oasis theme than serenity, what with Canada's largest slopeside hot-pool complex on hand. It's a wonder the place isn't more crowded, with superbly balanced runs ranging from the beginner slopes of the Discovery Zone to the steep-and-deep exhilaration of Taynton Bowl. Panorama is also one of the few places in North America that serves up heli-skiing right out of its resort village, with RK Heliski giving guests access to 1,500 square kilometres of pristine mountain and glacier terrain.
Where to stay: Of the myriad slopside lodgings in Panorama's village, Panorama Springs Lodge stands out for its upscale amenities and for providing direct access to the hot-pools complex.
Where to après: The mountaintop Summit Hut takes après-ski fondue to literal new heights. Dip baby potatoes, roasted garlic, steamed vegetables and baguette in a decadent Swiss cheese blend, and then do likewise with fresh fruit and rich melted chocolate. Sit with a glass of local riesling, watch the sunset, then click into your gear for a guided run down to the village below.
Pass privileges: Ikon Pass holders have access to seven days at Panorama with no blackout dates. Mountain Collective pass holders receive two free days with no blackout dates.
Owl's Head, Quebec
While the mountain's measurements are similar to those of other ski areas in the hilly Eastern Townships region south of Montreal — 50 runs, 540 vertical metres and 163 skiable acres — Owl's Head stands out with a single high-speed quad that climbs to its scenic summit overlooking the serpentine Lake Memphremagog. From there, extensively gladed double-blacks intersect intermediate runs that meander down a peak named after an ancient Abenaki chief. The slopes serviced by two more quads on the resort's sunny southern flank are ideal for catching some rays, with top-to-bottom snowmaking helping to keep the slopes powdery.
Where to stay: Set on the top floor of the base area's main public chalet, the comfortably-equipped MTN Haus hotel provides guests with direct access to ski gear and equipment rental shops, and perhaps most importantly, to…
Where to après:  The MTN Haus Resto-Bar offers a casually stylish spot to bury yourself in the "Avalanche of nachos" or sip an "English Redhead" from the nearby Farnham microbrewery.
Marmot Basin, Alberta
Marmot is conspicuously devoid of slopeside development owing to its spectacular setting in Jasper National Park. From the top of the Knob Chair to the base of the Canadian Rockies Express — the longest high-speed quadruple chairlift in the Canadian Rockies — Marmot's high-alpine bowls, pulse-pounding chutes and tree-lined cruisers are about as pristine as it gets.
Jasper was named a World Heritage Site by UNESCO in 1984, and for good reason: its dramatic waterfalls, deep canyons, pristine lakes and shimmering glaciers are surrounded by snow-capped Rocky Mountain peaks like the 2,612-metre giant covered with Marmot's 86 trails — and no condos whatsoever.
Where to stay: The Fairmont Jasper Park Lodge's luxurious collection of cabins surrounds an aptly-named Great Hall where a towering central fireplace warms toes while the in-house gastropub does likewise to cockles.
Where to après: Tucked into the Fairmont's lavish shopping concourse, Oka Sushi serves incredibly fresh seafood – given that the closest ocean is about 800 kilometres away – with their Jasper Roll combining crabmeat and shrimp with a spicy secret sauce.
Pass privileges: Mountain Collective pass holders receive two free days at Marmot with no blackout dates.
Sun Peaks, B.C.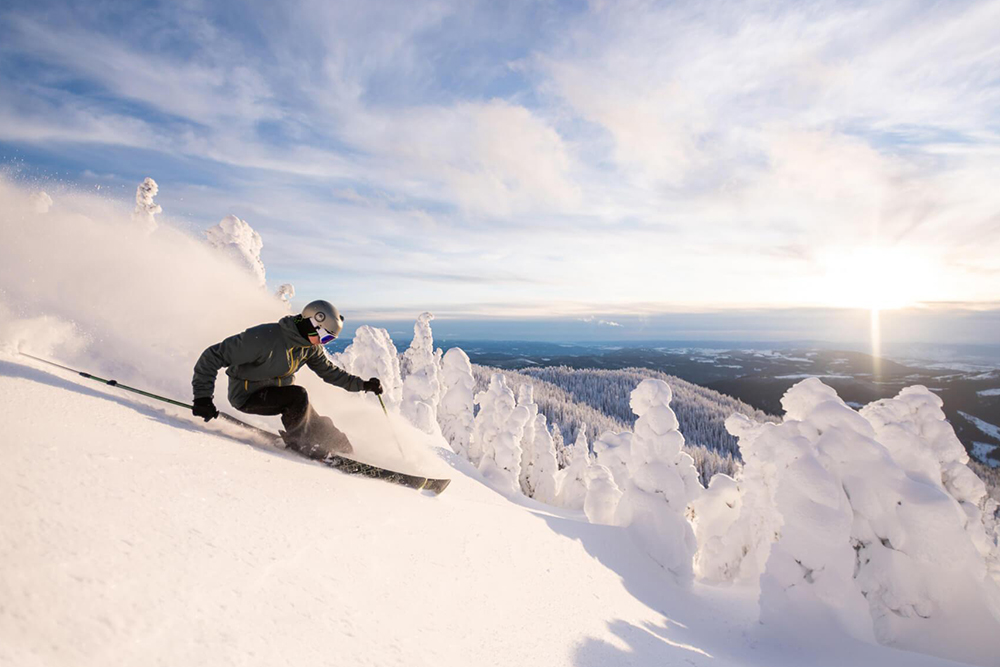 A ski resort must be doing something right for a public school to open on its slopes. Such is the case with Sun Peaks, which in 2015 became Canada's second-largest ski and snowboard destination after a 200-hectare expansion on two of its three mountains. The resort village, meanwhile, is a textbook example of how to arrange accommodations, restaurants, shops and more in a picturesque and convenient manner. Leave it to Mother Nature to do the rest, with 2,000-plus hours of sunshine and nearly six metres of snow piling up annually.
Visitors can also ski with Olympic champion Nancy Greene, a former Canadian senator and an Ambassador for Tourism Sun Peaks. Nancy takes part in the complimentary Sun Hosts program three days a week, so if you dream of skiing with a gold-medallist – and getting technique tips from one too – this is your chance.
Where to stay: With three outdoor hot tubs and an indoor entrance to a heated outdoor pool, the Sun Peaks Grand Hotel & Residences is the ideal venue for soothing tired ski legs.
Where to après: A lively mix of locals and visitors come to Bottoms Bar & Grill for local craft brews, oversized cocktails, and pub-style comfort food.
Pass privileges: Ikon Pass holders have access to seven days at Sun Peaks with no blackout dates.
Marble Mountain, Newfoundland
Size matters when it comes to skiing, and with 39 runs covering 64 hectares Marble Mountain is by far the largest ski area in Atlantic Canada. It also ranks fifth in Eastern Canada in terms of vertical, with the 519-metre drop outclassing anything in Ontario. But personality goes a long way too, and that's where Marble really shines. Where else, for instance, can you trade your skis for a harness and zipline from the crest of thundering waterfalls to the bottom of a colossal gorge?
Where to stay: Steps from the slopes and five minutes by car from downtown Corner Brook, which just happens to be Canada's snowiest city, the Marble Inn & Suites overlooks the rushing Humber River and includes a soothing saltwater spa and two cosy eateries.
Where to après: Marble's gorgeous post-and-beam base lodge is home to the Knotty Pine Lounge, where a shot of screech is pretty much required before clipping onto the aforementioned zipline.
Photos courtesy of redresort.com (Ryan Flett and Ashley Voykin), Le Massif, Adam Bisby, Marmot, Sun Peaks, and Marble
Apex Mountain Resort, B.C.
A 30-minute drive from Penticton on the west side of winery-lined Okanagan Lake, Apex combines sunny skies with an average of 600 centimetres of snow each winter. Beginner and intermediate runs abound, with double-black chutes and glades testing the skills of even the most experienced skiers and riders. No skills are required for the resort's undulating Tube Park, while a kilometre-long skating loop through a picturesque pine forest provides a leisurely option for anyone taking a break from the slopes. The 56 cross-country skiing trails, meanwhile, add to Apex's active, outdoorsy vibe.
Where to stay: The resort's boutique (and pet-friendly) namesake lodge offers 10 ski-in/ski-out rooms of varying configurations, along with a self-contained (and fireplace-equipped) four-bedroom suite.
Where to apres: Just when you think the two-level Gunbarrel Saloon is just another extremely lively ski bar, someone orders its trademark Gunbarrel Coffee and out comes a shotgun, the barrels of which guide flaming Grand Marnier into a sugar-rimmed goblet of coffee, brandy, and creme de cacao.
Pass privileges: Indy Pass holders receive two free days at Apex with no blackout dates.
Photos courtesy of redresort.com (Ryan Flett and Ashley Voykin), Le Massif, Adam Bisby, Marmot Basin, Sun Peaks, Marble, Apex, Panorama, Resorts of the Canadian Rockies, Owl's Head, and Marriott Hotels & Resorts