Louis Vuitton's New Tambour Horizon Light Up Connected Is Upping the Luxury Smartwatch Game
Smartwatches made by luxury brands occupy an interesting place in the watch world. Without precious metals, hand-finished movements, and other traditional hallmarks of mechanical watches, or the R&D power of big tech companies like Apple and Google, luxury smartwatches have to prove their worth as both luxury items and high-tech wearables. Since 2015, when the first luxury smartwatch from a major Swiss watch brand was released, we've seen a huge amount of improvement in both the aesthetics and functionality of these devices. How much? The Louis Vuitton Tambour Horizon Light Up — the newest generation of LV's signature wearable — is here to show you just how far the luxury smartwatch has come.
A sleek new look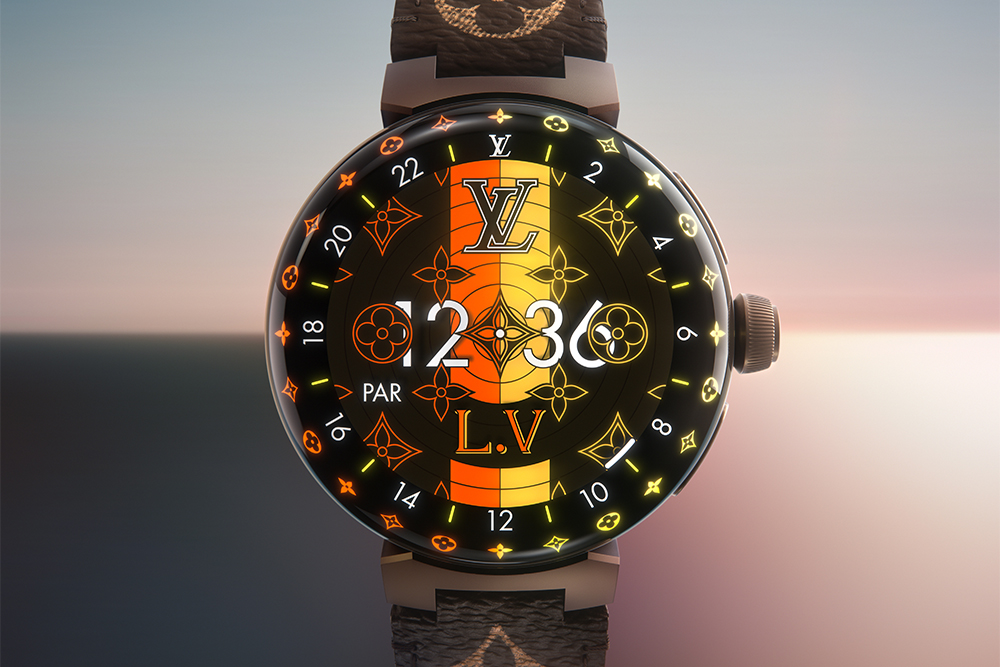 The third generation of Louis Vuitton's Tambour Horizon, the Light Up brings a lot of newness to the table in both looks and functionality. Starting from the outside, the Tambour Horizon Light Up's 44mm case is available in three variations: one in polished stainless steel, one in sandblasted stainless steel with black PVD coating, and another with brown PVD — a nod to LV's iconic brown monogram canvas. While the watch maintains the substantial thickness and drum-like shape of the Tambour line, its screen curves over the edge of the bezel to give it a sleek, infinity pool-like appearance that's enhanced by 24 LED monogram flowers around the circumference. Creating a kaleidoscopic animation whenever the watch is activated, these colourful dancing icons immediately establish the Light Up as a new kind of creature in the smartwatch ecosystem.
A powerful new OS
While previous versions were powered by Google's WearOS, one of the most impressive features of Louis Vuitton's newest Tambour Horizon is an operating system designed in-house. Attempting to beat Apple and Google at their own game is an audacious move — even for a brand with the clout and resources of LV — but the results are just as impressive as you'd hope. While it's compatible with Android and HarmonyOS smartphones, the Tambour Horizon's operating system is the first non-Apple OS to be accredited as "MFI", or "made for iPhone." That translates to intuitive functionality via a rotating crown, two sleek pushers, and a touchscreen. Swiping right brings up 'My Day', which includes useful features like calendar, weather, step count, heart rate, and even air quality displays. Swiping down, meanwhile, reveals notifications, and swiping up opens a control panel for timers, alarms, music and Alipay, among other features.
Built for travel and customization
Fittingly for a brand that built its name by making some of the world's most luxurious luggage, Louis Vuitton's Tambour Horizon Light Up is designed with discerning travellers in mind. Swiping left takes the wearer into 'My Travel', where travel plans and boarding passes are easily accessible alongside 30 of Louis Vuitton's curated City Guides. And just like LV's iconic trunks, every Tambour Horizon Light Up is customizable with eight built-in dial configurations that can be configured in a rainbow of colours and gradients, and (naturally) a custom monogram in the wearer's choice of typefaces and colours. New watch faces dedicated to holidays, special events, and Louis Vuitton runway shows will be released throughout the year.
A new kind of luxury smartwatch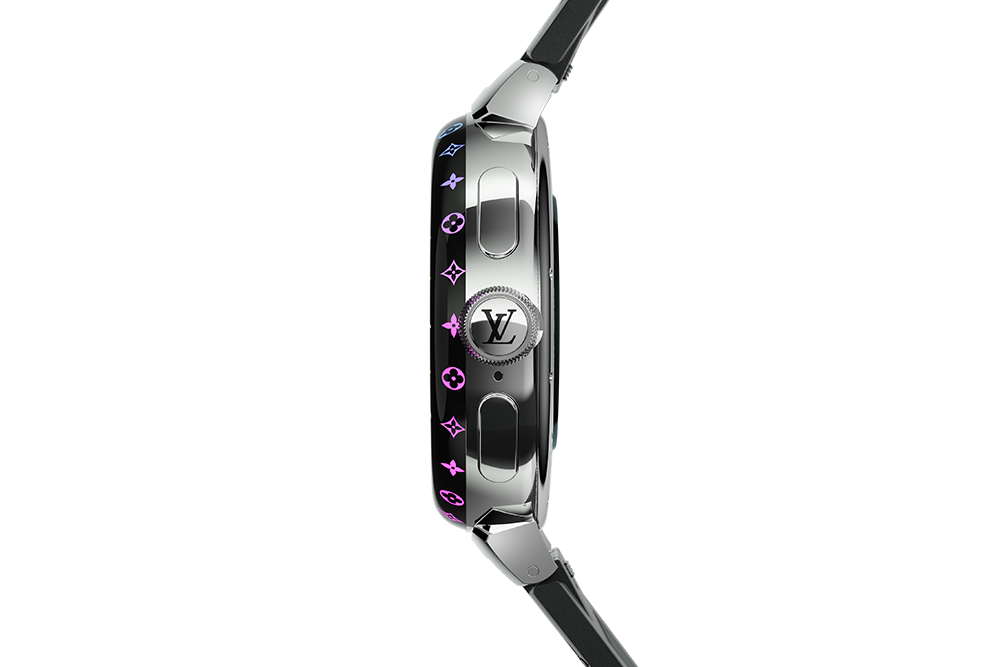 With its bold new exterior, crisp infinity-edge AMOLED screen and colourful bezel display, the Tambour Horizon Light Up has all of the looks of a next-gen smartwatch, and it backs them up with impressive functionality. A lightning-quick Snapdragon Wear 4100 processor, 1GB RAM, and 8 GB Flash memory ensure smooth graphics and frictionless user interface, while features like a heart rate monitor, microphone, accelerometer, gyroscope ensure the Tambour Horizon Light Up can more than keep pace as a fitness tracker. A quick strap change system and a wide selection of colourful straps, meanwhile, ensure its versatility as a fashion accessory. What else would you expect from Louis Vuitton? (from $4,500)
Learn more about the Lous Vuitton Tambour Horizon Light Up Connected Watch here.