Respecting Progress: The TAG Heuer Aquaracer Professional 200
The watch world is filled with heritage reissue this, and vintage inspiration that, proving that it's often easier to copy one's archives than it is to evolve an existing product line. With the launch of the TAG Heuer Aquaracer Professional 200, the brand proves itself capable of the latter once more, in the process delivering one of the sharpest dive watches we've seen this year. Designed as the more compact counterpart to the 300 series that launched in 2021, the new reference is positioned as more of an everyday adventurer's watch rather than as a professional dive watch alone.
Offered in both quartz-powered and self-winding configurations, the latter of which is powered by the TAG Heuer Calibre 5 automatic movement, with a power reserve of 38 hours. The stainless steel case of the Aquaracer Professional 200 features an almost entirely brushed finish, shy of subtle polished beveling, and the use of polished centre links on its bracelet for a bit of extra flash. Its robust 60-click rotating timing bezel sports the same brushed finish, further reinforcing its rugged personality. The bracelet's clasp is fitted with a three point micro-adjustment. At time of publishing, the reference is only offered on this steel bracelet, but knowing how the brand operates, we won't be surprised to see a rubber strap offering appear at a later date. Over the course of testing, the watch was fitted to a variety of aftermarket 20mm straps, and it's safe to say that the new Aquaracer will be incredibly versatile for those who like to change things up from time to time.
You'll note that its bezel is cut in a subtle dodecagonal form, amplifying its ease of operation. Relying on a pair of flat spots rather than aggressive knurling as a means of grip is not new, but it works fantastically. This detail — alongside its oversized screw-down crown and the flat spot on the opposing side of its case — are unorthodox choices when it comes to typical dive watch design. This is precisely where TAG Heuer has tapped into its history in building both the 200 and 300 collections. The design cues in question will fly entirely under the radar for most consumers, however those more intimately acquainted with the brand will perhaps recall the Professional 3000 collection that was in production from 1984 through until 1990. In the case of the new Professional 200, this older reference also provided the inspiration of the brushed bezel finishing we mentioned earlier.
To some it will seem like a nominal gap to close, launching this Professional 200m series alongside the 300m, however in the metal it makes significant sense. After all, many brands continue to offer variants of the same or similar references in multiple case sizes, so in turn TAG Heuer has made efforts to differentiate its two siblings just enough that they're distinct yet cohesive. Also, with a 3mm gap between case sizes, this is enough of a jump where one reference might be too large or small for a prospective buyer and the other will be a perfect fit. I'll immediately raise a hand as one that falls into that category. While I found the 300m reference charming, the 43mm diameter is larger than what I like to wear these days. In contrast, the dimensions of this 200m variant are perfect for me, and I found myself wearing the watch quite a bit over the course of its testing period.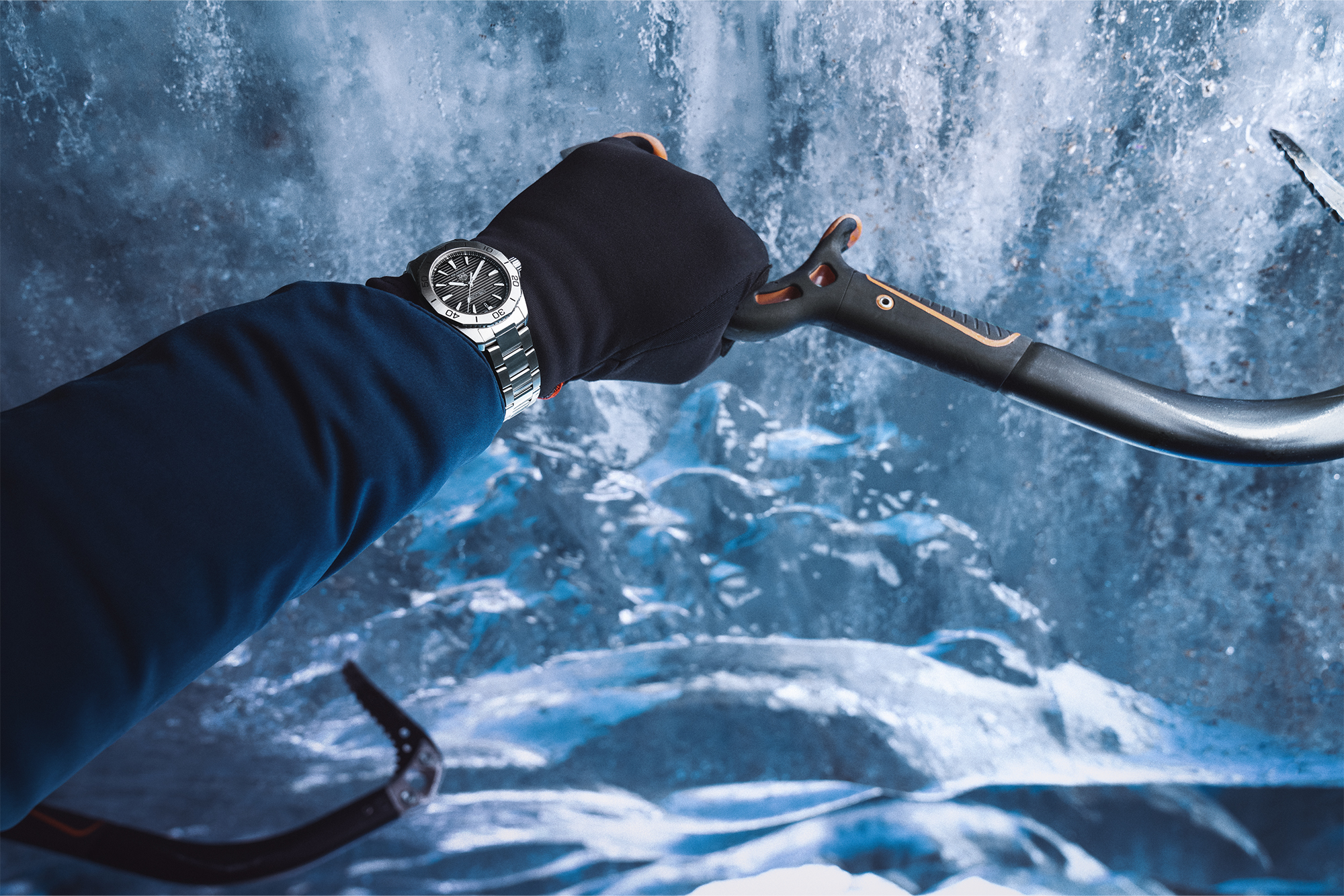 Between its design, dimensions, and discreet historical play, there are a lot of reasons why the Aquaracer Professional 200 should win you over. I'll be quick to admit that it's on my radar this year, having recently been on the hunt for a higher quality and more versatile dive watch. With prices starting at $2,050 for the quartz version, and $2,750 for the Calibre 5-powered automatic, these watches are quite reasonably priced for what they offer. No, we don't get any in-house movement trickery, or flashy new composite materials, but those things seldom really belong in a dive watch in the first place. Robust character, legibility, and reliability are the name of the game here, and the Aquaracer Professional 200 delivers in spades.
Learn more about the TAG Heuer Aquaracer Professional 200 here.