SHARP Tries: Meet HAROLD, Harry Rosen's New Custom Clothing Program
SHARP & Harry Rosen
As an editor of SHARP, it's time I made an admission: I own just a single, lonely suit. I recently tried on this one suit (for the first time since the pandemic began) in anticipation of a busy summer ahead. It didn't fit — at all. As I tried to close the suit jacket, I could feel the buttons groaning, ready to pop off and go flying across the room. The trousers gripped my thighs in all the wrong ways. But the pencil legs and waify silhouette weren't just cutting off circulation to my limbs, they felt totally misaligned with my everyday wardrobe full of boxy shirts and wide pants. Even if I could fit into this suit, it didn't feel like me.
So, when I arrived at Harry Rosen's flagship Bloor Street location earlier this month to try out the brand's new custom clothing program, I arrived with a one-track mind: I needed a suit.
After more than a year in development, HAROLD is the first custom-made private label in Harry Rosen history, offering a range of ready-to-wear and custom-made clothing designed to fill out your wardrobe. What really sets it apart, however, is its focus on personalization. HAROLD encourages Canadian men to bring their own ideas and inspiration to the custom-made process, all while being steered through the sometimes murky and intimidating waters of tailoring by Harry Rosen's team of Clothing Advisors.
Waiting for me in the HAROLD showroom high above Bloor Street was Adam Percival, a Harry Rosen veteran of 23 years who now heads up the brand's custom-made program. As we shook hands, a gold bracelet crafted to look like a fabric measuring tape peeked out from under his shirt sleeve. Draped around his neck was the real thing.
I'd come prepared too, armed with an iPhone folder full of reference suiting images and a few practical requirements. The most important: I needed something classic enough to be suitable for a wide range of occasions, and yet I also didn't want something that felt like a costume that would only be worn once or twice a year. I wanted a jacket that could be split from the pants — perhaps to be worn out for dinner with a pair of faded black jeans and black shoes — and a bit of subtle flair, like a slightly higher than normal waist and a more relaxed silhouette.
I'd barely needed to explain any of this to Adam before he remarked: "I noticed that the jeans you're wearing are a little generous. Is that how you typically like your clothes to fit?" I nodded. "I would love to see you in something that's sort of a natural, relaxed fit that you can either dress up or down," he said. Bingo.
I changed into a navy suit and a dress shirt with a half-spread collar that would act as a sort of rough canvas to evaluate the fit. Adam got to work, pinching fabrics, stretching his measuring tape across my torso and down my limbs, scribbling numbers down onto a sheet of paper. "This is really to just help guide the decision on the fit, to help me understand how you like your clothing to fit," said Adam.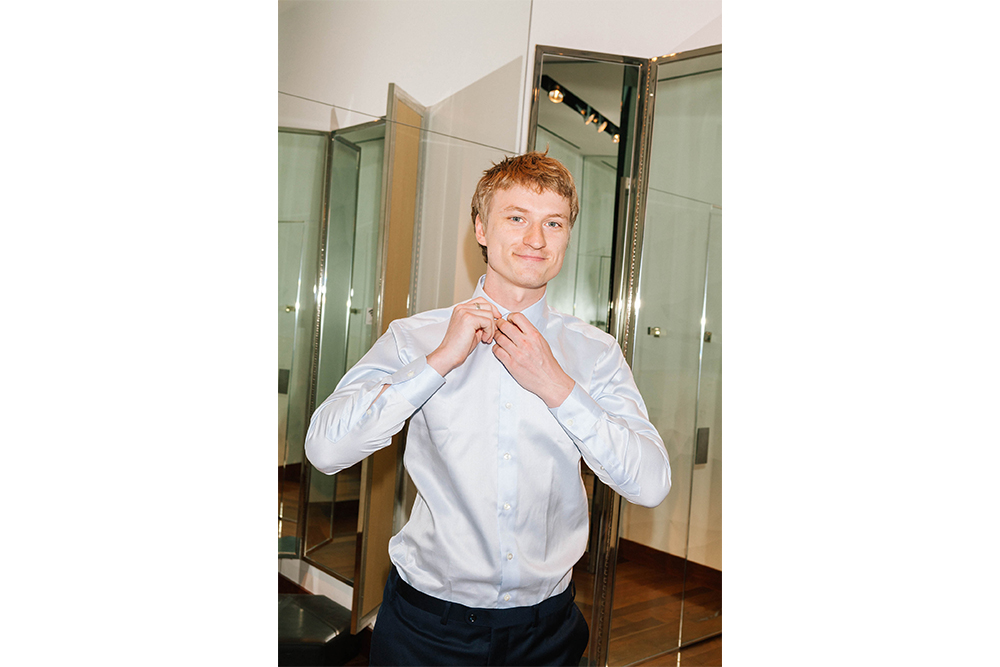 As we stood in front of a mirror evaluating the suit, Adam pointed out that my shoulders, like most people's, aren't level. In fact, my right shoulder sits slightly lower than my left, meaning that if I were to buy an off-the-rack suit, its lapels and buttonholes would never perfectly align. "But we can [plan for] that in the pattern," he explained. It was just one of many seemingly minor tweaks with major value. Among the longer list of changes we agreed upon: elongate the torso, lengthen the sleeves, take in the waist (just enough to see a glimmer of daylight between my arms and torso), let the trousers out around the thighs and hips, and push the waist slightly higher.
Adam wasn't telling me what to do or what I should like. Instead, he was taking cues from my tastes and responding accordingly – and, thankfully, he was there to guide me when I needed a professional opinion, like when choosing a fabric from a seemingly endless sea of swatches.
At HAROLD, there are lots of binders: binders full of buttons, binders full of tracksuit drawstrings, and binders full of suiting and shirting fabrics. "How many are there?" I asked. "Certainly hundreds. Almost thousands, once you do [all the] different permutations here," said Adam. Lest I be paralyzed by choice, Adam began pulling out a handful of favourites — mostly navy blues — that would suit the types of occasions I'll likely encounter in my early thirties.
For a moment, I became enamoured with a windowpane pattern with subtle brown striping, enticed by the prospect of something a little more daring and showier than I was used to. "It might be a little bit limiting," Adam cautioned me, aware that this was to be my do-everything suit. I knew he was right. Instead, we opted for a fine navy-blue check — a good looking pattern that reads as a solid from a distance but offers a bit of visual intrigue and texture from up close. "[It's] very easy to work with; to dress up or dress down in the casual and deconstructed style that we're doing it. You could still wear it as a separate jacket; it could easily go with a pair of black pants or black jeans," said Adam.
While this fabric certainly errs more toward classic than it does daring, an especially fun part of the HAROLD process is that clients can customize the interior linings of jackets. In fact, Harry Rosen's own president and COO, Ian Rosen, recently had his own jacket lined with images of vintage Harry Rosen ads from decades past. While I didn't go that far, I did have a little fun, opting for a blue camouflage liner. It's certainly not what I expected to like, but somehow it works.
The rest of the suit is a similar balance of classic details and contemporary flair. We chose notched over peak lapels, double vents in the rear, and unstructured shoulders that are light on padding. "You'll notice that the weight is lifted off the jacket. It'll feel more like a cardigan than it does a suit," said Adam.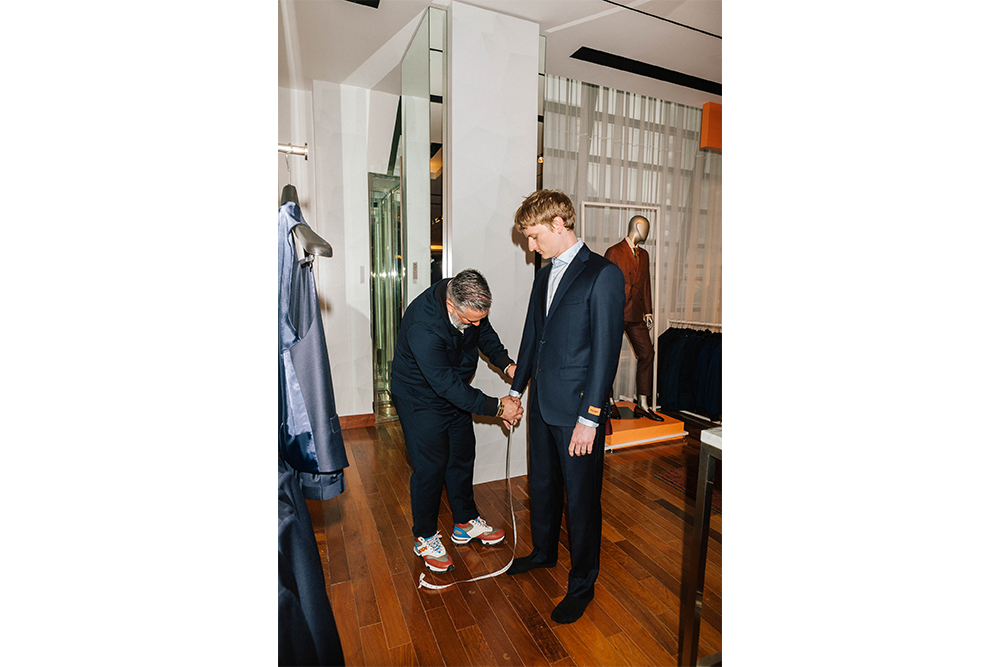 We also added a ticket pocket, which, I learned, is a smaller pocket stacked directly above the larger right hip pocket — less functional than it is fashionable. "You don't see them off-the-rack very much, so it sort of denotes that it's custom tailored. It might be a cool finishing detail that gives [the suit] just a little bit of an edge." On the trousers, we traded in belt loops for side-adjusters, allowing future me to go beltless — a look that's becoming increasingly common at fashion weeks everywhere.
And that was that. "Done deal," said Adam, shutting the binder full of buttons after we made a selection, the final step in our nearly hour-long appointment.
Now, my new suit is being sewed just for me. Once it's ready in a few weeks time, it'll be pretty well perfect, I'm told, requiring just a bit of fine-tuning. And while my fabric choice may be understated (and exactly what I need), I'm especially excited about the relaxed shape, the unconstructed shoulders, the slightly higher than normal waist — all thanks to Adam's expertise and his ability to take cues from what I liked and what I wear every day. At last: a suit that not only fits me but feels a lot more like me too. And I think it's time I owned more than one.
Learn more about HAROLD at Harry Rosen here.
Photography: Aaron Wynia