Nikki DeLoach Is Living a Wonderful Life
It still feels a bit too early to talk about Christmas movies (we're looking at you, Cristina Rosato), but luckily, actress Nikki DeLoach comes bearing these summertime-themed photos to soften the blow of her new holiday movie A Dream of Christmas.
"It's essentially a retelling of It's A Wonderful Life in today's world, with a woman instead of George Bailey," says DeLoach. "Life is not the way my character thought it would be at this stage of the game, so she asks for a different one and learns a lesson. It's all about the lessons."
DeLoach learned some lessons of her own early on in her career. As a child, she starred in The Mickey Mouse Club at the same time as its most notable alums Justin Timberlake, Christina Aguilera and Ryan Gosling.
"It never felt like work, I was just waking up and going to play with my best friends," says DeLoach. "It just so happens I was also singing, dancing, and acting every day too. Everything I learned from that experience about being an entertainer and telling stories you can't learn anywhere else. It was amazing."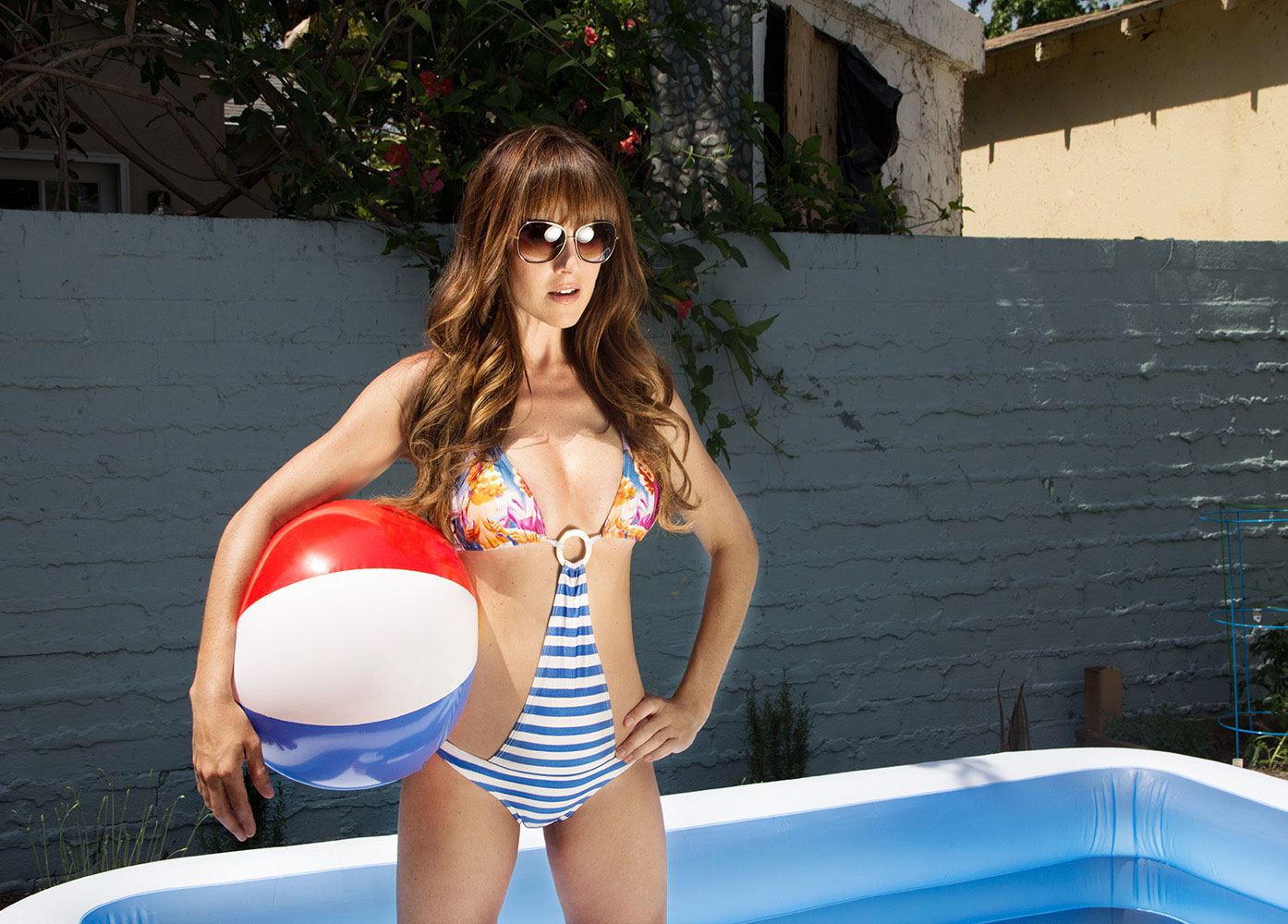 Who was your childhood celebrity crush?
Harrison Ford. I liked older men. I was obsessed with Star Wars and Indiana Jones growing up so, he was it.
What is your guilty pleasure?
Definitely wine. French fries, cheeseburgers, and probably reality TV, too. I love The Bachelor, The Bachelorette, Bachelor in Paradise, all of them. I would give anything to take Chris Harrison's job for just one season. Could you imagine how fun that would be?
Who would you love to work with?
As an actor, the ultimate is obviously Meryl Streep. Also, Julianne Moore because I think she is absolutely phenomenal. Outside of acting, on a philanthropic level, Michelle Obama. She is just so inspiring and so smart and so strong. I would show up to any organization or any fundraiser that she is doing. I would pick up trash for her if I had to.
What is your secret talent?
I'm a good cook. I'm a really good cook. My signature dishes would be my Georgia Caviar, which is like a salsa, and my chocolate chip pecan pie.
What are you afraid of?
Before having a son there were so many different things that I was afraid of. Now, all of those fears are gone. The only thing I am ever really afraid of is something happening to him. It's just too much to comprehend and I almost shut down in fear just thinking about it.
What never fails to make you laugh?
[Laughs.] Farts! Farts are funny. They are really funny. I would say that and probably John Oliver.
I love that you couldn't even say "farts" without laughing.
They've been so funny to me since I was a child! Farts. [Laughs.]
What are you awful at?
Math. Oh my gosh. Math. I am so bad at it. Economics. That's another one. Math and economics. Just kill me now.
Lastly, what has been your strangest fan encounter?
I have a really high tolerance for strangeness, so nothing ever really bothers me. I have a memory, but it's more so embarrassing for me. I went into a CVS one night back when I was heavily pregnant, my hair was wet and in a bun, and just looking so bad. Someone came up to me and said she loved me on Awkward and asked if I'd take a picture with her. And I did! Never mind that I as pregnant as I can possibly be, I'm also holding a gigantic box of diapers that I couldn't even be bothered to put down. She posted it on social media and I was horrified. It's the one moment in my life where I wish I hadn't taken a picture with someone, but there it is.
Photographer/Styling: Hellin Kay
Hair/Make-up: Allison Noelle