Cold Weather Cuisine: 5 Hearty-as-Hell Recipes to Warm Up Your Guests
After a long day hucking 1080s off cliffs and carving sick lines through the glades, there's nothing like sitting down to a nice pressed duck. Okay, I don't really huck that many cliffs anymore, at least not intentionally, and pressed duck, especially the one they serve at the Kronenstübli restaurant in the Grand Hotel Kronenhof, St. Moritz, is not my typical ski meal — but it is my ideal ski meal. In fact, it's the meal I dream about as I careen down mountains, no matter where in the world I happen to be.
It just seems the older I get, the more I look forward to the après portion of the day. There are any number of reasons I think food and wine taste better after a day on the slopes: the altitude, the fresh mountain air, the exercise. These all sharpen the appetite. Besides, when you've survived another day of hard skiing (or, fine, snowboarding too) without injury, a bit of a celebration is deserved. An extra glass of wine. A bit more fat and meat than might be normal.
Of course, you don't have to spend a day carving through powder to appreciate a traditional après ski meal. The Alpine region — that vast mountain range that runs through Europe, from eastern France and northern Italy through Austria, Germany, Slovenia, and Switzerland — has given rise to some of the world's best comfort food, all dark meats and gooey cheese, aromatic soups, and rib-sticking stews. It's food that's designed to see you through the winter. What's not to love?
Sautéed Wild Mushrooms and Soft Boiled Eggs
James Walt, Araxi
When I lived in Whistler I could never afford to eat at Araxi (as a 19-year-old certified ski bum, I could barely afford to eat anywhere), but in the years since I've had plenty of meals at what is my favourite mountain restaurant in the country. Chef James Walt's been running the kitchen there for nearly half of the restaurant's 35-year history. His recipe here, for sauteed mushrooms with soft-boiled eggs, is a good example of the kind of seasonal, produce-driven cuisine he's pioneered in Whistler. This would be equally good with a cup of coffee early in the morning or a glass of wine at the end of the day.
Tartiflette
Sylvain Dervieux, Les Labours and Le Bercail restaurants at Le Germain Hotel Charlevoix
Le Germain Hotel in Charlevoix, 20 minutes from the base of the Le Massif ski hill, is an ultra-modern hotel, but this recipe from executive chef Sylvain Derviuex (he oversees the hotel's two restaurants, Les Labours and Le Bercail) is anything but. The first recipe for tartiflette was published over 300 years ago, but they were eating the dish in the Savoy region of the French Alps, where the dish comes from, long before that. An utterly shameless combination of potatoes, reblochon cheese, lardons, and onions, you'll need to ski hard to work this one off. But hey, beach season is a long way off.
Cheese Fondue
Skiing and fondue go together like boots and bindings. There is no more iconic mountain food than a bubbling pot of gooey, wine-drenched cheese. Add a few colour-coded sticks and an appropriate number of friends and the good times practically roll themselves. The Post Hotel and Spa in Lake Louise is sometimes over- shadowed by its much bigger brother, the legendary Fairmont Lake Louise, but savvy skiers know that the Post is the place to be. The hotel's Swiss owners, André and George Schwarz, keep things running like a Rolex and have recently converted the old cigar lounge into an upscale fondue lounge. George wouldn't divulge every secret of their famous fondue, but he assures me that this classic version is just as delicious.
Creamy Vegan Spiced Pumpkin Soup with Popcorn
Alta Bistro chef Nick Cassettari offers a vegan spiced pumpkin soup that has all the luscious creaminess that Alpinists crave without any of the slowing heaviness of buckets of cheese or fat. Big, bright kernels
of popcorn ensure that the dish is far from boring and that there are enough calories to keep you going all day.
Keralan Fish Curry
Curry might not be the first thing anyone thinks of when they think of Alpine cuisine, but chef Steve Ramey says that this is one of his most popular dishes. It makes sense: the spicy, coconut milk-soaked recipe is full of complex flavour: just the thing to warm you up from the inside out on the top of a mountain. Ramey should know. His restaurant, Christine's, sits atop the Solar Coaster Express in the Rendezvous Restaurant on Blackcomb Mountain. At an elevation of 1,862 meters, it doesn't get much more Alpine than that.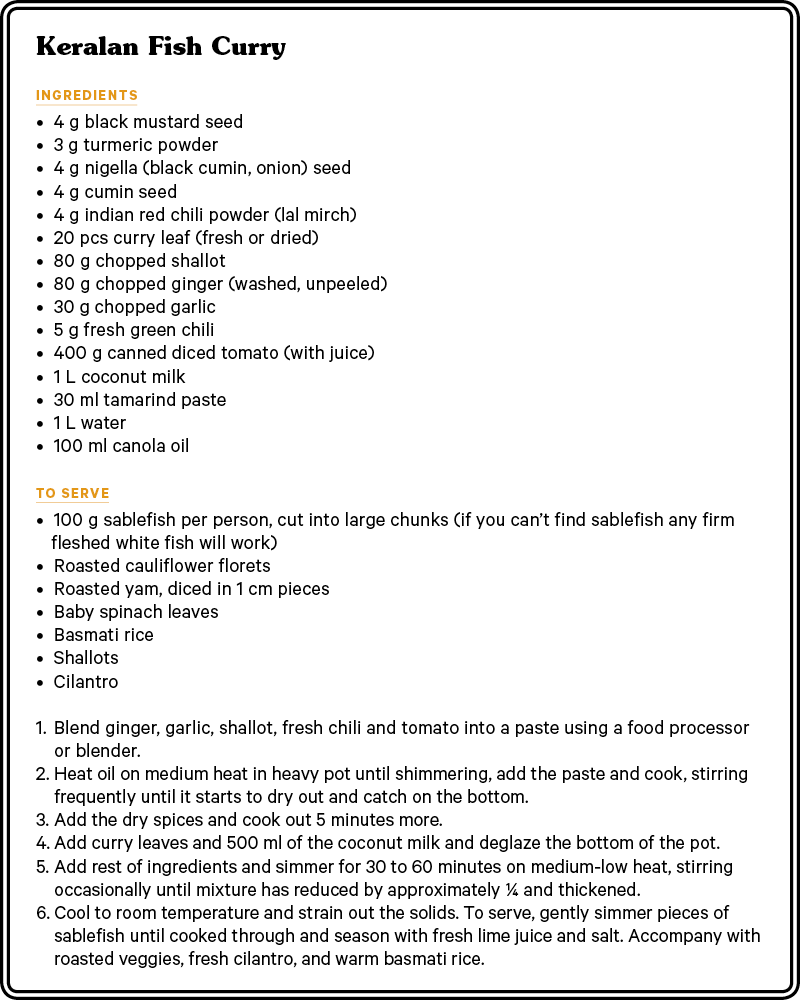 Photography: Liam Mogan
Styling: Andrew Bullis