The Irrepressible Jeff Goldbluminess of Jeff Goldblum
Jeff Goldblum has lost his voice.
His voice has been variously compared to that of a "jazz station deejay" (says Unbreakable Kimmy Schmidt star Ellie Kemper), a "long ribbon of transmitting verbiage with hiccups in it" (according to his Grand Budapest Hotel and Adam Resurrected co-star Willem Dafoe), and, most floridly, "the sound of the Pegasus in the last moments before it takes flight, just as the hooves are lightly caressing some soft, wet moss and slowly lifting off the turf" (Thor: Ragnarok director Taika Waititi). Now the actor, moonlighting jazzman, and human meme has fallen silent and is under strict vocal rest. Doctor's orders.
Yes, Jeff Goldblum, whose mellifluous timbre and stop-start, ummmm … ahhhhh … rhythms are very much his instruments, just as Van Damme has the splits and The Rock has his pointedly arching eyebrows. There will be no punctuating umm's or reflective ahhhh's or excitable a-ha's here. We spoke (er, "spoke") to Jeff Goldblum via e-mail. And yet somehow, that distinct, idiosyncratic personality, that recognizable Jeff Goldbluminess, still bleeds through.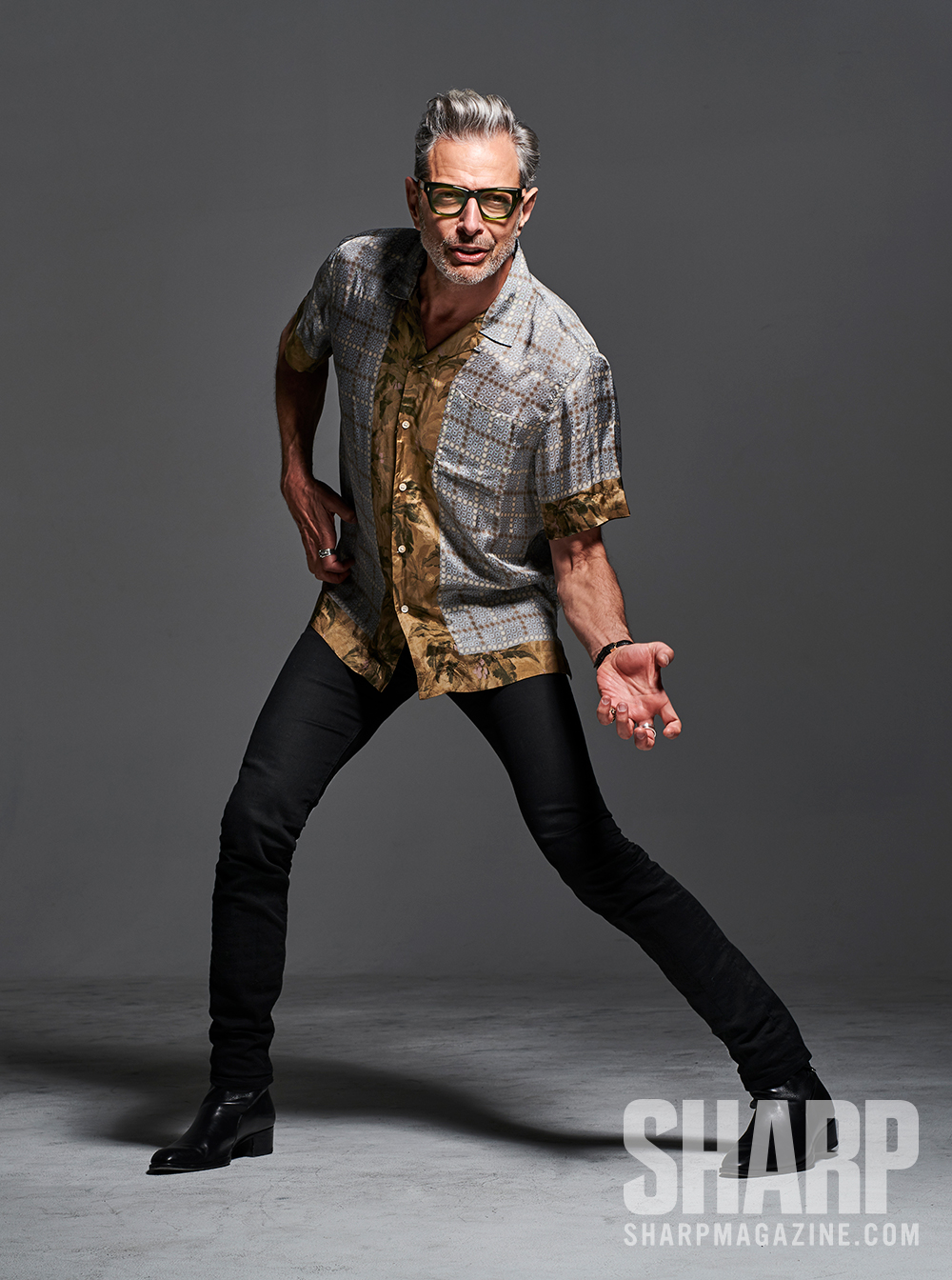 Shirt ($530) by Dries van Noten; jeans ($320) by Acne Studios; boots ($1,390) by Saint Laurent.
Like: Jeff Goldblum is the kind of guy who ends paragraphs with cutesy turns of phrase like, "Know what I mean, Jellybean?" and deploys the grammatical direct address "my friend" as a way of identifying, and connecting with, a total stranger over e-mail. Asked if he's aware that Ian Malcolm, the hunky chaos theorist Goldblum played in 1993's prehistoric theme park disaster movie Jurassic Park and plays again in this summer's Jurassic World: Fallen Kingdom, has been recuperated as a kind of nerd sex symbol, Goldblum typographically lights up. "You make total sense, my friend," he says. "But I personally don't equate intelligence (as depicted on the page, in this case) with nerdiness. And the character is also written to be passionate, ethical, focused, loving, and fun, and I myself found that alluring and seductive from the start."
Trench coat ($4,300) by Louis Vuitton; shirt ($2,045) by Louis Vuitton.
In the new film, Goldblum's black-clad, bespectacled, strangely alluring mathematician appears before a congressional committee to warn the world about what he calls the "new dinosaur dilemmas." Yet even in such diminished capacities, Goldblum has a way of stealing the show, of warping one or another Hollywood franchise film around the weird, wiggly contours of his eclectic personality. "I always try to play the character," he says. And increasingly, the character seems to be himself. Or some version of it.
"I'm supremely alive and having more fun than ever. Yippee!"
Take last summer's Thor: Ragnarok, which cast Goldblum as a psychopathic, hedonistic alien named The Grandmaster. A minor role, yes. But as largely improvised by Goldblum, it injected the machine-made Marvel franchise film with a leavening touch of wry humour and genuine oddness — not too shabby for a movie that features an enormous wolf, an even more gigantic satanic fire demon, and a coterie of Norse gods and multi-coloured aliens. In such small roles, Goldblum's own comic persona slices through the CGI tapestry. Instead of Jeff Goldblum bending to play the role — in what the movie biz used to call "acting" — the roles open up to accommodate the presence of Jeff Goldblum.
Blazer (Price Upon Request) by Ralph Lauren Purple Label; turtleneck (Price Upon Request) by Gucci; watch (Jeff's own) by Cartier.
It's a meta-persona he continues to perform on his Instagram (where he regularly posts memes of himself), on late-night talk shows, and, yes, even in ostensibly impersonal e-mail interviews. One thinks it would get exhausting. For Goldblum, it's anything but.  "The sum of all my endeavours, at this point," he explains, "has got me feeling full of vitamin A, supremely alive, and having more fun than ever.  Yippee!"
It's a contemporary career trajectory many actors have followed — or fallen into. Consider Nicolas Cage, whose real-life weirdness and scattershot approach to taking roles has come to define an actor who, not so long ago, was taken seriously as one of Hollywood's premiere talents. Ditto Val Kilmer, Chuck Norris, Keanu Reeves, and others who have been elevated (or debased) into certified cultural memes. Yet where the unlikely recuperation of these past-prime stars is sometimes mocking or mean-spirited, Jeff Goldblum is a more willing participant in his meme-ification and Internet stardom. If he's set to become some half-ironic, half-admiring joke, it seems he'd much rather be in on it.
Jacket ($795) by Coach, sweater ($990) and jeans (price upon request) by Saint Laurent.
Goldblum willingly — and joyously, as expressed by the above "Yippee!" — embraces perpetually relishing in his stardom. He poses for photos in rainbow-striped kitten sweaters and takes time in interviews to critique Jeff Goldblum tattoos found online. He is the agent and author of his own weirdness. To wit: asked about the fan art and tattoos dedicated to him, he responds with a string of hashtags: praying hands, winking kissy-face, human brain, musical notation staff. It's a string of hypermodern hieroglyphs for which only Jeff Goldblum holds the Rosetta stone.
This unduplicatable dynamism has earned Goldblum a considerable rep in recent years as a comedic actor. While he's always been funny — one need think only of the way he says "cheeseburger!" in David Cronenberg's body-horror opera The Fly, or even his ludicrously macho appearance cruising around on a three-wheeled motorbike in Robert Altman's Nashville — his sense of humour is at the fore in his appearances on Unbreakable Kimmy Schmidt, or in the various surrealist-comic experiments of oddball sketch comedians Tim Heidecker and Eric Wareheim (whom Goldblum calls "brave pioneers"). In his roles and even in his selection of them (however odd or seemingly erratic), Goldblum works wonderfully with whatever he has. He's as mesmerizing and unmistakable in a late-night sketch comedy series as he is in a bit part in a big-budget Marvel movie as he is in a commercial for Apartments.com. For the actor, it's less of a deliberate turn than an embrace of instincts. "My choices," Goldblum puts it, in a perfectly Goldblum-y turn, "are led by my heart and my gizzard."
Shirt ($980) and pants ($590) by Prada; sneakers ($895) by Balenciaga.
Pressed, Goldblum reveals a deeper, almost Zen rationale for his career. His motto, in acting and in life, is to "use what exists." Essentially, he advocates for a program of life-scaled improvisation, an approach that benefits his thespian turns as much as his meta-persona, and his side gig as a jazz pianist. It's a lesson learned from Sanford Meisner, an acting teacher and author who believes in blurring the lines between character and performer. Meisner preaches the utility of instinct, dramatic punctuation, and the importance of "living under imaginary circumstances" — all well-honed instruments in the toolbox of Jeff Goldblum the actor and Jeff Goldblum the man. "Accept all now," says Goldblum, veering into full-on Bodhisattva mode, "inside and out, and create with it your beautiful and unique dance."
Or, as his bad-boy chaos-theorist sex symbol puts it in the original Jurassic Park, "Life … uh … finds a way."
Feature image: Motorcycle jacket ($5,595) by Lanvin; T-shirt ($65) by Velva Sheen.
Photography: Matt Barnes
Styling: Andrew Votterro
Grooming: David Cox/Art Department