9 Can't-Miss Valentine's Day Gifts That Aren't Flowers or Chocolate
Valentine's Day might be the hardest occasion to shop for — and, yes, we're including anniversaries and birthdays. All the standard issue gifts — flowers, chocolates, jewellery, lingerie — can either be a massive hit or a Drake-at-Kentucky-sized miss, so why not try something new? We've rounded up a few present ideas that are all a little more interesting (but still romantic) than anything you've gotten her in the past.
ITA Serving Plate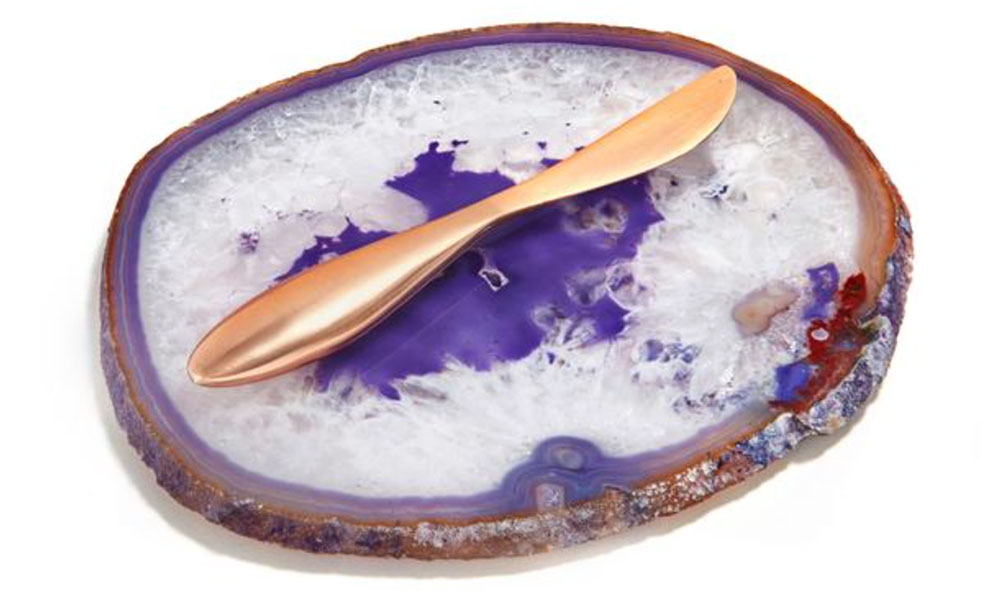 A perfectly pretty gift for the woman who loves to host, this cheeseboard/serving plate by Anna New York will be a statement piece in her kitchen. But don't just hand her the plate: artfully arrange flowers, her favourite hors d'oeuvres or a pair of earrings on it to ensure she truly appreciates it's geode-esque beauty.
Anna New York, $85
Lumee Phone Case
Your lady probably hates it when you tell her she takes too many selfies, so get back in her good graces with the same Lumee phone case that Kim Kardashian uses to snap her perfect pics. The newer models have LED lighting on both the front and back of the case, so that all her food photos will be just as flawless as the selfies. Who knows? Maybe if you're nice enough, you'll even make it into a picture or two.
Lumee, $70
Etsy Cards
Save yourself the aggravation of writing a poem by getting a hilarious card from Etsy. With literally thousands of designs to choose from, you're bound to find something that makes her laugh. And in #SaltBae's case, maybe even something that turns her on.
Etsy, $10
Frank + Oak Coat
We're all sick of wearing oversized puffer jackets to combat the never-ending cold, right? Surprise your Valentine by picking up this sleek Frank + Oak wool coat. It's a classic style that will transition perfectly into spring, but is still warm enough for her to wear out on your V-day date night.
Frank + Oak, $265
Love Letters of Great Men and Women
You probably don't remember this book of love letters from the first Sex and the City film, but trust us: your girl does. All of the letters referenced in the film — by Beethoven, Byron and Napoleon, among others — are included here. You'll be a hero.
Indigo, $20
Lancome's La Rose à Poudrer
Skip the tired spa gift card and pick up Lancome's newest illuminating blush. No need to stress about makeup specifics — this product only comes in one shade and is sure to make each and every woman glow.
Lancome, $80
The Art of the Teese Tickets
As Dita herself recently told us, most women leave her shows "feeling inspired." And what better time to get hit with a little inspiration than on Valentine's Day? Luckily, Von Teese's latest burlesque extravaganza, The Art of the Teese, is touring right now and tickets are still available.
Ticketmaster, $150
Jennifer Meyer Ring
Jewellery can seem like a bit of a cliche on this day, but this ring from Jennifer Meyers is anything but. The 'Open Heart' ring has 0.50 carats of light-catching diamonds in a design that you won't already find in your lady's jewellery box. Plus, it wears well from day to night — or night to day, depending on when you give it to her.
Net-A-Porter, $3,170
Home Made Luxe Subscription
If you've got a crafty woman in your home (you'll know if you find copious amounts of glue, glitter and pipe cleaners everywhere) this subscription box is just about the perfect present. Every month Home Made Luxe delivers all the materials she'll need to create a DIY home decor project. This could also help in ending any Pinterest addictions that may be getting seriously out of hand.
Cratejoy, $30/month