A Look at the Late Virgil Abloh's Remarkable Tenure at Louis Vuitton
Throughout a career that spanned art, fashion, design, and music, Virgil Abloh's allure was both pan-cultural and intergenerational. As the creator of decidedly modern aesthetics, Abloh recoded bourgeois archetypes with democratic appeal and injected a bold Black aesthetic into the historically white-dominated arena of fashion. Drops for his Off-White label as well as for Louis Vuitton, became cultural events, as ardent admirers of high fashion and streetwear lined up to admire these unique pieces. Abloh's untimely passing last November shook the fashion world to its core, prompting a seismic wave of grief and an outpouring of passionate eulogies, and cementing his status as a once-in-a-lifetime creative.
While Abloh may not be physically present, his enigmatic spirit permeates Louis Vuitton's latest collections. Mere days after his passing, the storied maison took to both Paris and Art Basel in Miami to showcase its Spring/Summer 2022 collection. Abloh named the collection "Amen Break", a nod to an endlessly sampled drum break from the funk and soul group The Winstons — another example of Abloh's personal mission to bolster overlooked Black cultural creations and identities. During a traditional runway outing in the City of Lights last November, models donned gender-fluid fashions that incorporated traditional suiting and flouncy frocks, all rendered in a palette of hues that ranged from black to vermilion. Louis Vuitton's monogram was applied to garments awash in radiant shades of neon, while leather sneakers, oversized boxing gloves, and touches of graffiti reflected Abloh's affinity for streetwear.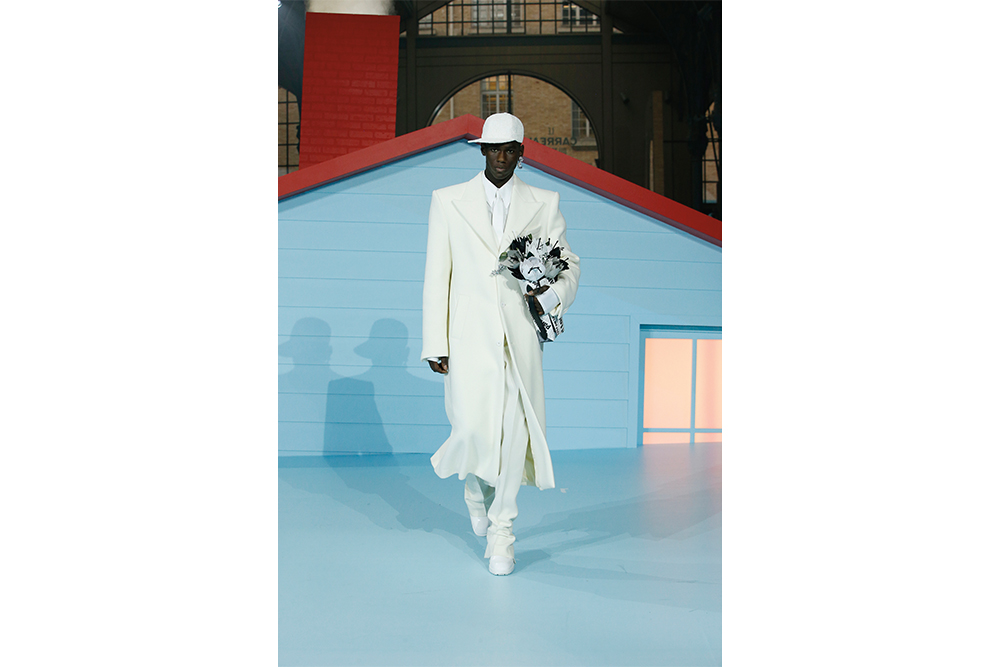 The Art Basel presentation this past December featured the mammoth-sized Spring/Summer collection in its entirety, plus a few new looks. What was originally supposed to mark the opening of a new Miami boutique opening turned into a touching tribute for the designer. Over 1,500 attendees boarded Louis Vuitton–branded ferries and speedboats to be whisked away to the Miami Marine Stadium. There, models paraded down a causeway en plein air; during the finale, a drone show swirled above with the phrase "Virgil was here." Rainbow fireworks ignited the night sky and complemented the show's detailed setting.
Fast forward a month, and the brand unveiled the last fall/winter collection Abloh had a hand in creating. Entitled Louis Dreamhouse, the set was a metaphorical unravelling — a colour-blocked house broken down and scattered across the runway — alluding to a force breaking down barriers much like the designer did during his tenure at the helm of Vuitton's menswear division. There are also tinges of The Wizard of Oz — Abloh's favourite film — in the image of a fragmented dwelling. This collection featured a final sequence of pristine white garments with delicate lace wings attached at the back — a fittingly celestial image of the designer's spirit as it flies freely in the afterlife.
In a manifesto written in Chicago in July 2020, Abloh mentions that his role in the luxury fashion sphere is to "realize my themes in my own image: young men of colour who, in the future, might be able to mirror themselves in the historical [reflection of luxury as much as any] white boy down the street." In doing so, Abloh proved that the ambitions of visible minorities are valued and can alter culture in significant ways. In his absence, a new generation of innovators has been given the reassurance that they, too, matter and can have a prominent seat at the table.