These Were the Best-Dressed Men at the 2018 Grammys
Awards show season is well and truly upon us, and with that territory always comes the maelstrom of style wins and losses that red carpets bring right into your living rooms. This week, it was the Grammys — the Oscars of music. With the wide collection of eclectic guests from the music industry invited, the Grammys really never disappoint when it comes to straight-up weird outfits. Whether they're rappers, rockers, or country singers, fashion worlds and philosophies seem to collide at speeds much too dangerous for home audiences.
However, just as the Grammys do with music, we've taken it upon ourselves to filter through all the white noise to bring to you the something-specials on Sunday's night's sartorial side of things. Here are our five favourite looks of the evening.
Donald Glover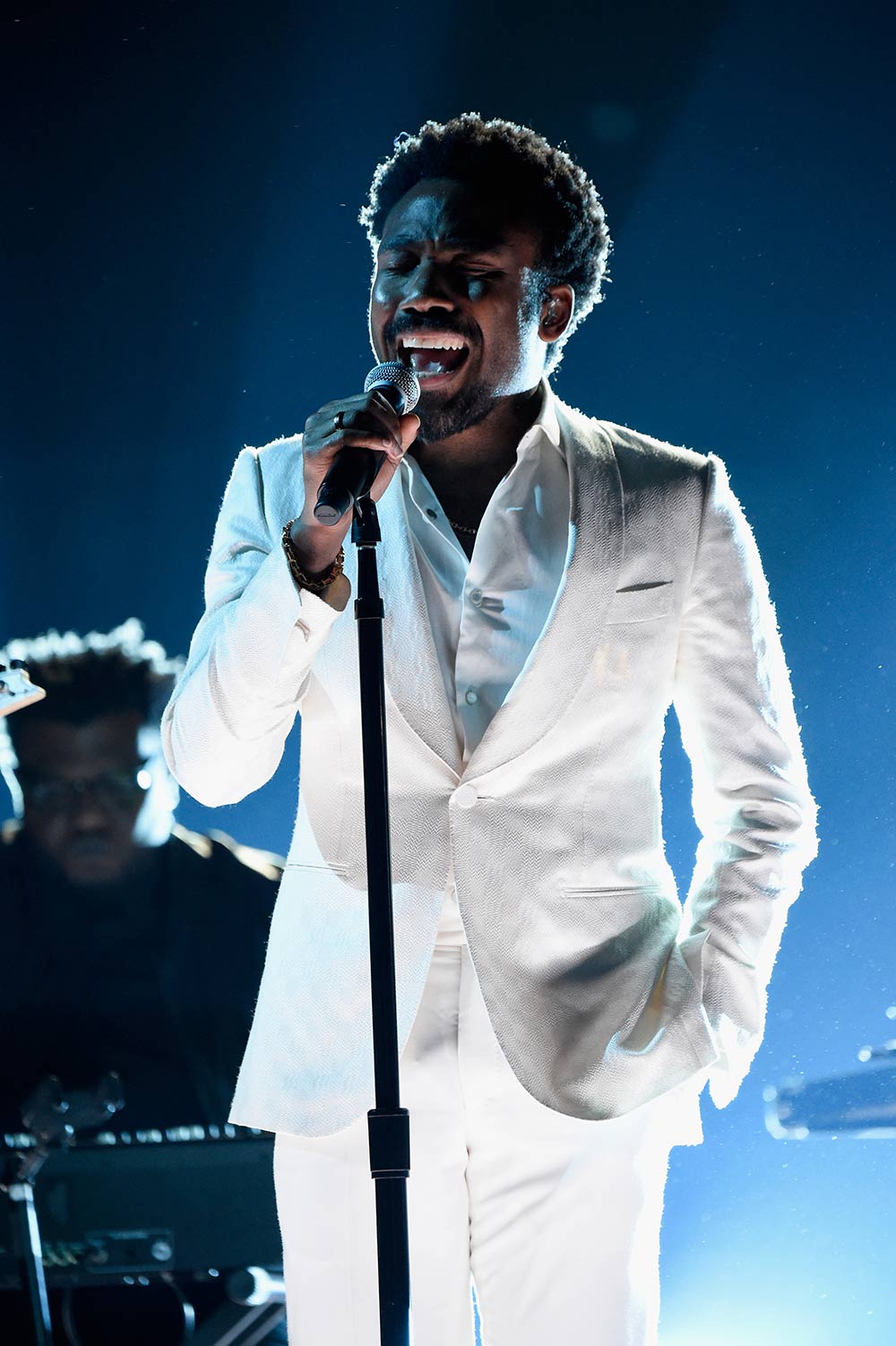 Winner of the award for Best Traditional R&B Performance, Donald Glover (a.k.a. Childish Gambino) could very well have taken away the trophy for Best-Dressed as well. The actor and singer looked laidback and comfortable in his all-white Ermenegildo Zegna suit with subtle checkered patterning, no small part in thanks to the relaxed tailoring in the shoulder and chest pieces so typical from Italian suit design. The shawl lapel had just the right amount of belly at the bottom to keep the design looking traditional, while Glover ditched the bow tie he was sporting earlier and unbuttoned his spread collared shirt a couple times for a more modern update (and to show off a little neck bling).
Kendrick Lamar
Kendrick Lamar picked up four Grammys last night, and looked dope accepting every one of them. The rapper went the complete opposite way Glover did and rocked an all-black outfit, but looked every bit as good. The two artists both opted for a shawl-collared tuxedo jacket, although Kendrick's extended all the way down to just below his knees. While the large patch pockets on the coat made it more casual, the tapered silky pants bunched down on his thick-soled shoes took formality levels way down. Still, Kendrick's re-imagined black tie was more than appropriate on the night — it was inspired.
Logic
Fellow rapper Logic actually did keep things traditional, thereby proving why sticking with the tried-and-tested is always going to be a black tie winner. Shawl collars on tuxedos are usually quite common, but this year's Grammys seemed to have an inordinate amount of them. The symbolism of wearing white roses and Time's Up badges are well known, but perhaps the shawl collar tux movement has a meaning we're yet to find out about. Regardless, Logic did wear a Time's Up badge on the collar of his sleek midnight blue tuxedo. The crisp white shirt with hidden placket and black bowtie complete the timeless awards show staple.
Style tip: tradition states that when wearing a bowtie with a tuxedo, always match the fabric of the lapel (usually a sheenier fabric like silk) exactly to the bow tie. It's a style detail that says to those who are in the know that you know what you're doing and so does your tailor.
Bruno Mars
It's actually tough to see what Bruno Mars is wearing behind all six of the Grammys he won last night, but I think we might just be able to make it out enough to write about it. We had to include Mars in this list because of his incredible clean-up of the show, but he didn't dress half bad either. This was definitely one of the more casual outfits of the night, but it still had a bit of that red carpet-worthy bling to it. From that sparkly red jacket, to his six Grammy awards, to his (24k Magic?) necklaces, and even his bleachy white chompers, Mr. Mars had some good reason to wear those aviators all night (besides all the many camera flashes).
Takeoff (of Migos) 
If you just so happen to be one of the most successful rappers of the past year, and your name is Takeoff, it might just be fitting you own a rumoured-to-be $74,000 chain with a diamond-encrusted alien in a spacesuit (with a working visor, obviously), made by custom jeweller Avianne and Co. If you were such a person, the real challenge would be how you would work that custom piece of artwork into a Grammys outfit. The answer? A Michael Jackson x Sgt. Peppers Lonely Hearts Club Band military jacket collaboration. Make sure to stop by Avianne and Co. to bedazzle that with some more diamonds before the big show as well, though. And if they have any spikes, spike up those shoulders while you're at it.