50 Years Later, the TOGO Chair Returns to the Fold
An atom, the most basic building block of chemistry, balances protons and electrons. The Atom, a new twist on the TOGO chair from French furniture company Ligne Roset, balances form and function. Created to celebrate the prize-winning chair's 50th anniversary, this latest iteration of the design puts a patterned spin on the deep curves, tufted corners, and striking aesthetic appeal of the original. And, in another atomic parallel, the TOGO created an explosive turning point in furniture history when it was revealed half a century ago; a big glamorous bang that blew up all existing expectations of interior design. Not familiar with the story? Here's the quick version.
When it debuted in 1973, the TOGO turned some serious heads. Innovative and utterly different, the chair was conceived by Michel Ducaroy, the then-head of Ligne Roset's design department, during a time of tremendous change for the furniture company. Jean Roset had taken the brand's reigns after the death of his father in 1946, and was expanding its original offering of walking sticks and parasol handles to include chairs and other furniture. Ducaroy was brought on board in 1960 to lead these new endeavours, and landed the brand lucrative contracts to create furniture for French public spaces.
The late 1960s saw Ducaroy and his pioneering presence in the design world bring about a cultural crescendo of sorts. New materials including high-quality foams and polyester quilting were being developed, and the brand's customer base was part of an emerging, progressive generation with a reputation for playful taste and a laissez-faire approach to social norms. This, paired with the increasingly revered Ligne Roset name, meant Ducaroy was afforded more and more chances to experiment — as he did at 1973's Salon des arts ménagers in Paris.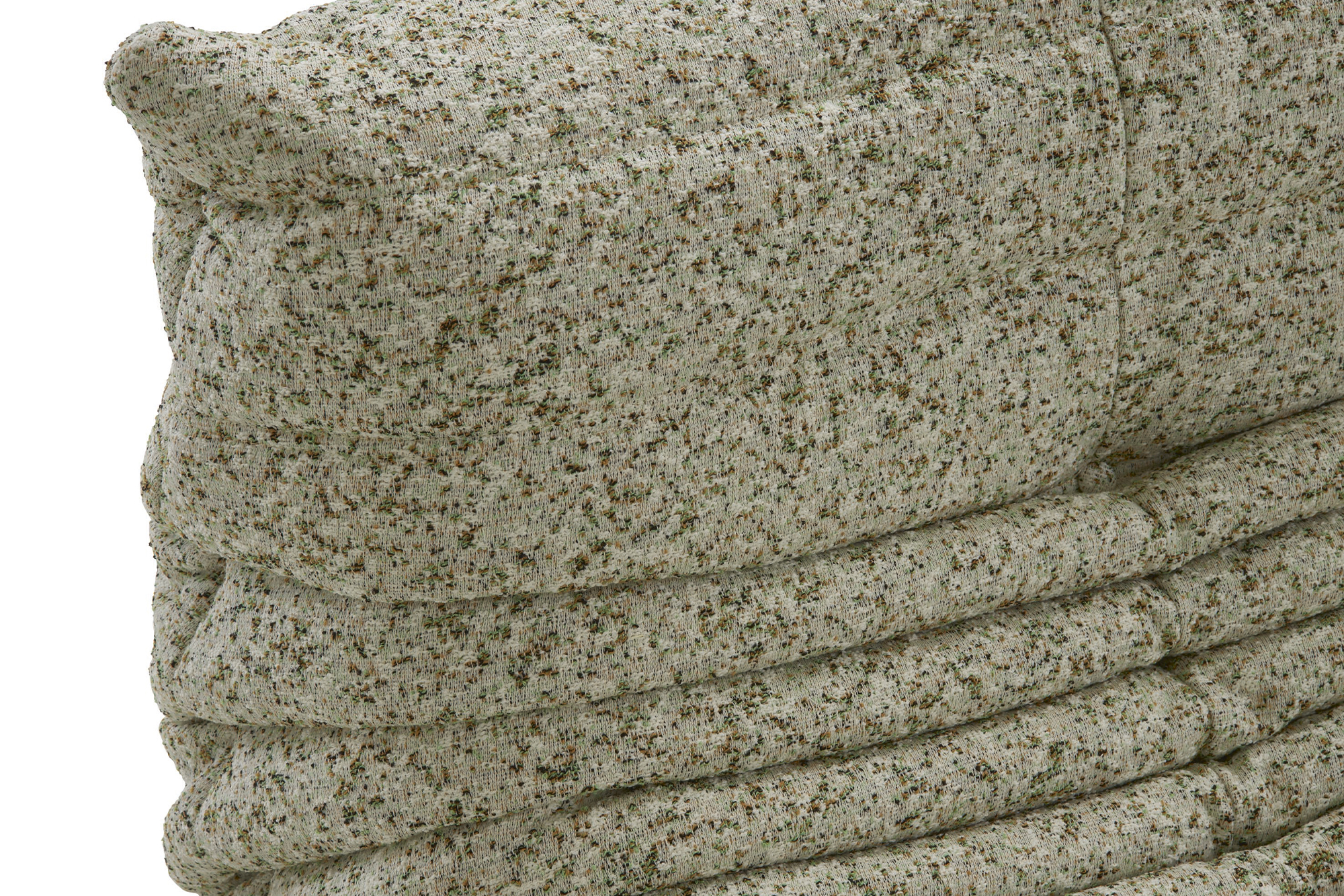 It was here that Ducaroy and Ligne Roset debuted the TOGO chair, where the design scooped the René-Gabriel Prize for its boundary-pushing looks. Its cultural reach, however, quickly transcended the design world. As the hippie movement bubbled to bonafide subculture status, Ducaroy's designs (including his all-foam Adria sofa) charmed a younger audience, attracting them with a mastery of modern materials and use of technologies including thermoformed plastic. Creating new, freeform seating concepts to suit changing conventions, Ducaroy proved his finger was on the pulse of this new generation. And, thanks to his training at the École Nationale Supérieure des Beaux-Arts de Lyon's department of sculpture, the designer's keen social insight collided with artisanal eccentricity. He often described the TOGO, somewhat quirkily, as "a tube of toothpaste folded back on itself like a stovepipe and closed at both ends."
But, while the famous chair's unique design lent itself to a diversity of descriptors, its most defining attribute was versatility. Like a tulip petal, the TOGO curved up from top to bottom. Its ribbed fabric compressed to form a cozy seat that was at once idiosyncratic and inviting, effortlessly and endlessly adaptive to its surroundings, and slipping a pop of art-house-worthy whimsy into minimalist, mid-century settings.
It's fitting, then, that the chair today celebrates its 50th birthday with the Atom pattern. The handiwork of Belgian fashion designer Raf Simons, it has a visual texture that honours the experimental roots of the TOGO, a bouclé fabric with no discernible repetition inspired by the pointillist painting of Impressionist artworks. The buzzing, staticky specks add a palpable energy to the iconic design, and this new limited-edition TOGO (only 878 will be made) is available in three colours (birch, labradorite, and confetti). It's a suitably stirring tribute to the original chair; blending modern materials and coordinated chaos with that explosive, disruptive design.